Yesterday we visited Hatfield House in Hertfordshire.
The main website states the grounds as:
Welcome to Hatfield House, the Hertfordshire home of the 7th Marquess of Salisbury. Hatfield House, built between 1607 and 1611 by Robert Cecil, lst Earl of Salisbury and Chief Minister to James I, has been in the Cecil family ever since.
The State Rooms of this celebrated Jacobean House are rich in paintings, furniture, fine tapestries and historic armour. The extensive garden was originally planted by John Tradescant the Elder in the early 17th century. Lady Gwendolen Cecil, younger daughter of Prime Minister Salisbury, designed the West Garden as it is today. The East Garden was laid out by the 5th Marquess of Salisbury. In the garden can be found the Great Hall, the surviving wing of the Royal Palace of Hatfield (1485) where Elizabeth I spent some of her childhood.
The parking for visiting was right infront of the back entrance of the main building, which was a shame. The 'back' of the house has been used as the 'front entrance' for many years, since the railway had been built on the path of the original (south) house entrance; which meant that this side of the house which is seen most often is the most 'plainest' in terms of decoration.
Not many visitors would see the 'original' frontage of the house, as the formal back gardens are closed for 6 days a week, only opening on Thursdays; the only way to see the front of the building is to gain entry to the gardens, which cost £2.50 per person and look over a low fence.

This was also the only way to see the 'old palace'. The original palace (c.1485) was the childhood home of Queen Elizabeth I; but it wasn't open for visitors - the poor building is now used as a 'social event place' which people can hire out for events such as weddings and parties; the 'hall' we could see from an open door was full of chairs, rigged lighting with a stage and had it's own bar at one end...
It was in my opinion, a nicer building than the house!



{this is the 'back' of the house, where the visitors parked!}



{this is the 'original' frontage of the building, with the closed formal gardens}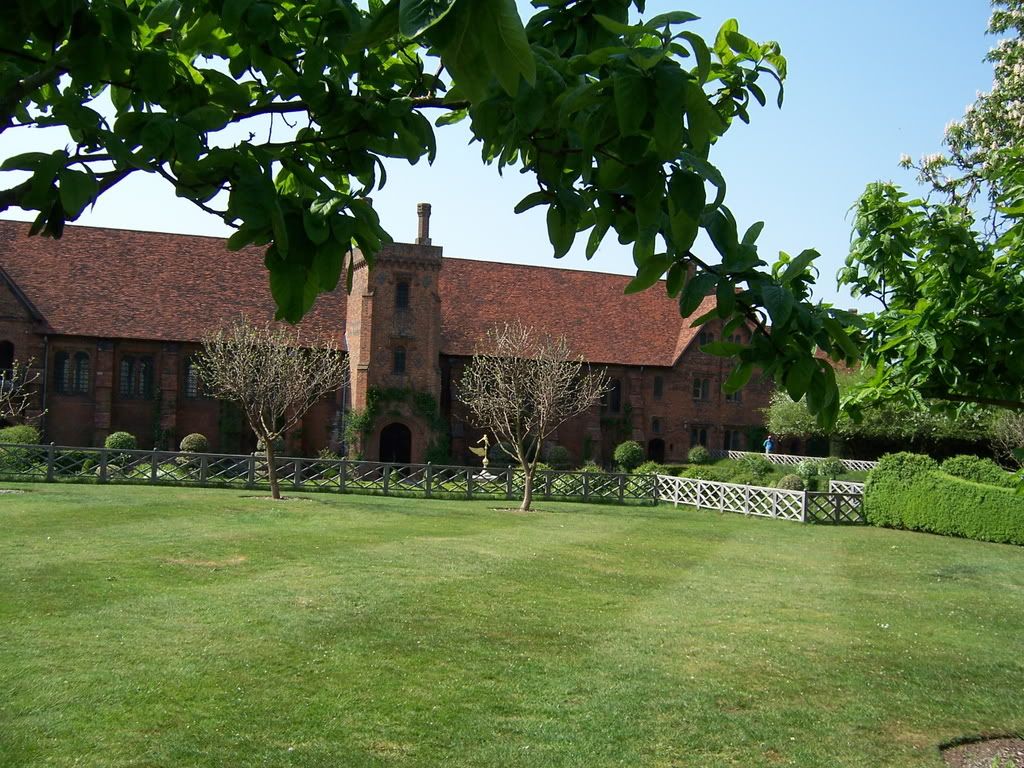 {This is the 'Old Palace' childhood home of Queen Elizabeth I}




{This portrait of Queen Elizabeth I was hung at the end of the 'Marble Hall', i found the pictures of eyes/ears and mouth on her dress to be rather creepy! It apparently meant that everyone had eyes/ears and were talking about her!)
There were also beautiful portraits of the Marchioness of Salisbury, the picture below being one that was on display:



There were even copies of her 'cheques' on display; for clothing/shoes/jewellrey etc!

For visitors: I would suggest bringing a pack lunch, as the food in the on-site restaurant is quite expensive. The day we went there was one vegetarian choice, a soup and one 'meat' meal. For £7.85 the meal looked impressive, but wasn't very warm, being sat on 'hotplates' for several hours - it would have been much nicer if it was cooked-to-order!
The gift shop was well stocked, although a lot of the stuff was the same sort of thing you get everywhere else - lavender/lily bath products, medieval 'kids' stuff, the usual 'calligraphy' sets.
Their range of 'Hatfield House' stuff was quite good, with lots of postcards and posters of Queen Elizabeth; and some specially produced embroidery kits.
There is also no photography inside the house, and the staff were quite strict on this (not liking visitors to even have a camera 'out'); visitors who know a bit about the house/architecture/or even history will probably not find the assistants to be useful in answering 'in depth' questions as their knowledge seemed limited.
(we asked about who painted the panels on the interior of the windows as they were in a different style to the rest of the room; they had no idea at all. There was also a huge damp patch in one corner of the hall roof, where painted ceiling had flaked off - they seemed annoyed that we had noticed it!)